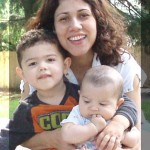 For several years we are helping many families with our cleaning services. As a mother of two kids I know exactly how hard is to keep a tidy house*, taking care the kids, cooking and some times moms do not have time for a deep house cleaning. So, that's why I am doing so well in this business and all my customers are so happy because we understand all the housecleaning needs.
My team
At this time we have available hours and an flexible schedule*. Usually I have one helper and in most days we are team of two and sometimes I have my sister and my husband giving me a hand to do a deep cleaning service.
Our Work
As a team of 02 people, we are able to do all the cleaning service tasks* at same cleaning time. Apartments and small houses cleaning are done in one hour and half. Price for small houses and apartments starts at $65.00 per weekly cleaning * and goes up to $350.00 to do floor to ceiling deep cleaning .
Insurance
We carry the necessary insurances to cover any type of loss: if something is broken or damaged it will be replaced immediately. If you need to change your cleaning day or time due to a Holiday Party or other Party, we will do our best to accommodate you.
If you need something done that does not fall within the realm of housecleaning, we can help you with that too. We are all about servicing you and making your life easier, after all that is what we are here for.
How to Contact us
We can always be reached via E-mail or Telephone, so communication is never an issue.
All calls and E-mails are returned within 24 hours.
We are looking forward to work with you.
[contact-form-7 404 "Not Found"]